Friends come in all shapes and sizes.
Would you like to make new friendships, expand your social network, but are not sure how? Are you looking for someone with whom you can share the same hobby or interest? Someone you can play sports with, cook with or go out with? Someone you can laugh with, share a hobby with and have fun with. With the NOAH program, Serve the City wants to help Maastricht residents establish new social contacts with each other. Together we want to connect the city by helping each other.
Who can you be a NOAH? 
Are you an expat, student or refugee new to Maastricht and want to meet new people?
Are you a local from Maastricht and want to meet new people?
Would you like to visit a museum with someone?
Would you like to go out with your child/children, together with another mother/father or family?
Would you like to cook together?
Would you like to cycle with someone or go to the gym?
Would you like to learn Dutch and get to know someone new?
Anyone can register as a NOAH. Would you like to be a friend and meet someone with whom you share the same hobby or interest? Someone you can hang out with and build a friendship with. Someone you have fun with and have a good time with.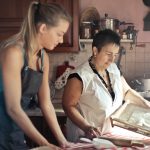 When you sign up for NOAH, Serve the City will contact you within two weeks to schedule an introductory meeting with you. We would like to get to know you and are curious about who you are and what motivates you to participate in NOAH. Together we will talk about your hobbies and interests and get to know each other. After this Serve the City will look for a NOAH-match, another NOAH that fits your profile and question. After four weeks we will contact you to plan a NOAH-meeting. During this meeting you will get to know your NOAH, we will make practical arrangements together so that you can immediately start planning a NOAH appointment.
As a NOAH duo you meet every two weeks for a period of 6 months. During this period, Serve the City will supervise in the background. If you have a question, or she is stuck with something, you can always come to us. After 6 months we evaluate the NOAH meetings, and you choose whether or not to continue the project.
The NOAH program is not a service, it does not provide help with chores, caregiving, or companion services. The NOAH program offers a match for a two-way relationship where both NOAHs benefit from interactions.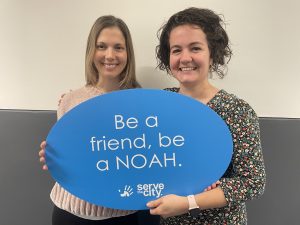 Our NOAH team
We are Mariana Cardoso (left) and Greet de Rechter (right). Together we form the NOAH team and we are very enthusiastic about connecting people in Maastricht through the same interest or hobby. With a broad smile and a heart full of passion we would like to welcome you to the NOAH program.
 Register for the NOAH program here.