Serve the City Maastricht seeks to connect people of all ages and backgrounds through helping each other.
Liesette can proudly say that she is from Maastricht, and she has joyfully served alongside others through STC dinners and projects. In January, it was her turn to get a little help from friends when she moved to a new apartment a few stories up. Strong arms and legs moved all the things up to her flat, and a week later a team was back to help paint, hang things on the walls, clean doors and windows, and do other odds and ends.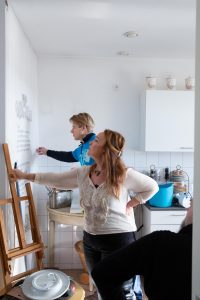 Volunteers took special care as they worked. Several of the objects had been in her family for generations, Liesette explained. "If you go to the second-hand store, you see hundreds of these things standing there. But this has emotional value."
Jesse is from the Netherlands above the rivers, and he was excited to be the project leader on this specific task. "The practical chores are deep in the DNA of Serve the City, so I especially love these projects."
Other volunteers were simply happy to help wherever needed. Manoj from India and John from Ecuador found out about the Big Volunteer Day online and signed up for a spot that was open, eventually ending up working in Liesette's place.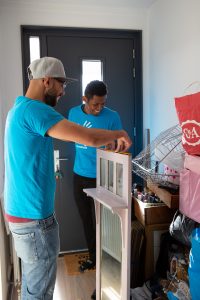 Manoj had done volunteer work in other places before coming to Maastricht in 2017, and he shared about his process of searching for opportunities. "Everything was in Dutch. I wanted to do something that was also English-friendly. Then I found this which looked to be everything was done in English and in Dutch."
John had been in Maastricht for just two weeks. "I was looking for my thing in this country," John said. "I want to help somebody, so I just open Google and look for volunteering Maastricht."
Connecting people through service is what STC is all about. "That is so mega. I always like the motivation of Serve the City," Liesette said. "In today's society it's all about 'me, myself and I.' And now, through this, I see that people are becoming aware and asking 'what can I do for others?' "
Liesette can count her decades in Maastricht on her hands. Jesse would use his hands to count years. Manoj could count his time here in months. John's fingers would represent weeks.  That simply shows that it doesn't matter how long a person has been here — everyone can lend a helping hand.
– Matthew Lunders